Title IX – as part of the Track & Field project, Title IX improvements to the softball field include:
relocating the practice field


accessible path of travel

new scoreboard

new batting cage and pitching area

power for pitching machine and scoreboard
Architect:
Status:
relocation of the practice field is in progress is out to bid (non-DSA) with completion expected in May.

architectural selection is in progress for the balance of the work.
---
Track and Field –
A new artificial track and field to provide all weather use of the stadium with funding from:

Prop O

City of National City Community Block Grant Development Funds ($200,000)

San Diego Chargers ($200,000)

Replacement of the concession stands demolished under the Track and Field and Portable Removal contracts
Architects:
RNT Architects (track & field)

BakerNowiki (concession stand)
Contractors:
Byrom-Davey (track & Field)
Status:
Track & Field complete in 2013 and certified by DSA on 2/12/15.

Concession building is in design.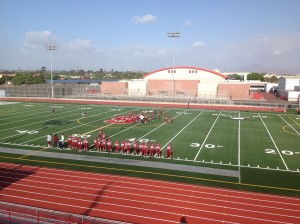 ---
ORG Portable Removal and Parking Lot Renovation – as part of Project 1 and as a condition of receiving additional funding from the State School Facilities Program Overcrowded Relief Grant funding (ORG), the District committed to removing 21 portables from the SUH campus. The work includes:
Demolish or remove 21 classrooms

Temporary parking striping

New parking lot, landscaping and fencing.

Demolition of the old welding building.
Architects – Reyes Architects
Contractors –
GA Dominguez (demolition and removal of portables)
Status –
Demolition, removal and temporary parking striping was completed in December 2011 and January 2012.

The new parking lot was approved by DSA but then was voided by DSA when it was discovered that the architect had let his license lapse. The architect is responsible for resubmitting the project and paying all fees not refunded to the district, however, the district has not been able to contact the architect for some time and must consider replacing the architect as an option.

Demolition of the old welding building will be bid in spring 2015 with demolition scheduled during the summer break.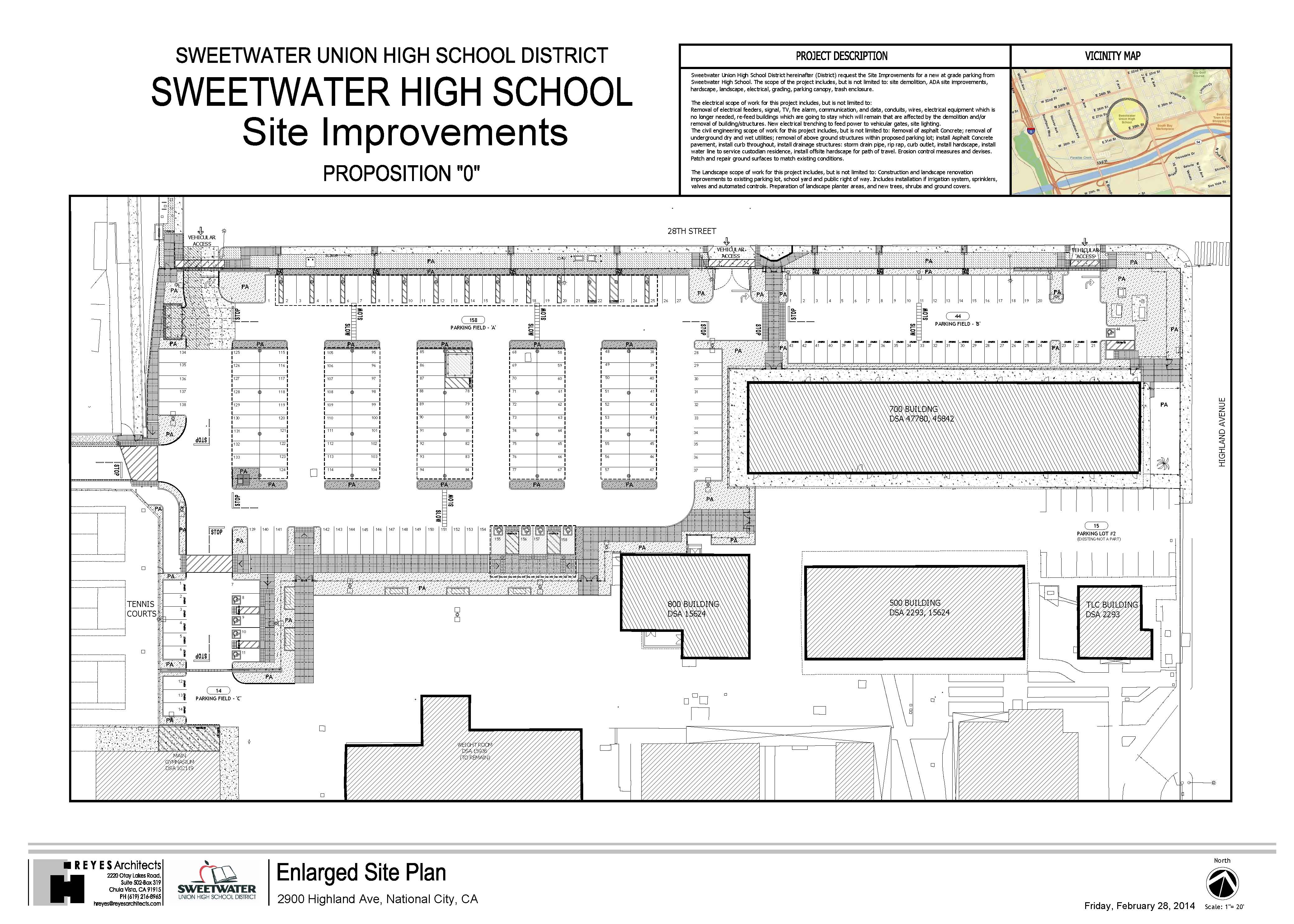 ---
Welding Building –
As part of Project 1, A new welding building to replace the open-air pole structure by the ball fields.
Architects –
BCA Architects, Inc.

Reyes Architects
Contractors –
Status –
The Grahovac portion of the project is complete, however, the project could not be fully completed under that construction contract and negotiations with the architect failed. BCA Architects was terminated and Reyes Architects preparing a final bid package to complete the project.

The project is complete.
---
Project 1 –
Modernization – a new 86,360 square foot three-story Classroom, Theater, Library and Administration building to replace the old two-story administration/classroom building and theater. The theater has been named the Laura R. Charles Theatre.

Stadium Structural Repairs – the concrete beams under the stadium were repaired.

Interim Housing for administration.
Architect – BCA Architects.
Contractors –
Sundt (modernization; lease/lease-back contract)

Slater (stadium repairs)
Status –
Modernization Complete in May 2011 and certified by DSA on 12/3/13.
Stadium repairs complete in 2009 and certified by DSA on 5/29/09
Interim Housing complete in 2009 and certified by DSA on 7/21/11.