Track and Field –
Architect: NTD Architects
This project is for the design of an artificial track and field.
This project was submitted to DSA on December 26, 2013 and approved on July 31, 2014.
Funding for construction has not been identified. The project is on hold.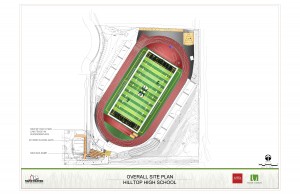 ---
Field Restoration, Title IX improvements, and Restroom  Relocatable –
Restore the softball fields after removal of interim housing.
Add dugouts and other facilities for Title IX equity.
Replace a non-DSA approved restroom building as required by DSA.
Architect – Ruhnau Ruhnau Clarke Architects
Contractor – Western Rim Constructors, Inc.
Status –
Fields completed in March 2012
Restroom building is complete
Certified by DSA on 4/1/14
---
Project 1 –
New 16,147 square foot two-story classroom building.
New 5,896 square foot photo lab and wood shop building.
Replacement of four classroom buildings (8,690 square feet including science classrooms)
Interim Housing
Interim Housing Removal
Architect – Ruhnau Ruhnau Clarke Architects
Contractors –
Pacific Building Group (new and modernized classrooms)
Fordyce (Interim Housing)
GEM Industrial (Interim Housing Removal)
Status –
Classrooms and modernization complete in July 2011 and certified by DSA on 6/25/13
Interim Housing complete in 2009 and

closed by DSA on 3/10/14

(not certified because the portables were removed)
Interim Housing Removal complete in 2012 and

certified by DSA on 8/7/13