Title IX Team Room –
Architect: RNT Architects
Project is in the design phase. A relocatable building will be converted to a team room similar to the MVH Title IX project.
The intent is to have the project complete before the spring 2016 softball season, however actual completion depends on DSA approval timelines.
---
Title IX Backstops and Fencing –
Architect: Reyes Architects
Contractor: Grahovac Construction
Project is complete and in use.
Minor punch list items being completed
Change order rate is 2.6%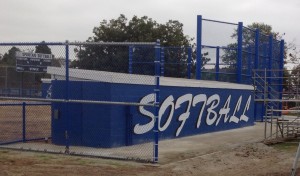 ---
Classroom upgrades in 100 and 500 buildings –
Architect: RNT Architects
Contractor: M.A. Stevens

The project consists of  cosmetic upgrades to 4 classrooms in the 100 building and 4 classrooms in the 500 building (mostly painting and flooring).
The project is under construction and is scheduled to be complete for the start of school in July 2014.
Change order rate is 0.0%
---
ORG Portable Removal –
Architect: Reyes Architects
Contractor: G.A. Dominguez
In return for additional funding from the State School Facilities Program Overcrowded Relief Grant funding (ORG), the District committed to removing 18 portables from the CVH campus. Twelve of the portables were removed during construction of Modernization Phase 1 and 6 more were removed by January 2013. The work included:
Demolish 6 classrooms
Additional parking
Minor upgrade to 6 classrooms on second floor of 100 building.

Complete in 2013
---
Project 1 –
Architect: BCA Architects
Contractor: Turner Construction

New Performing Arts Center – A new 25,000 square foot multi-purpose building was built to accommodate the creative arts for Chula Vista High School students. This facility has been named the Jack Tygett Performing Arts Center.
New Library – a new 5,735 square foot library.
Modernized PE facilities – the school's gymnasium, boys' locker room and girls' locker room were updated and modernized.
Stadium Structural Repairs – the concrete beams under the stadium were repaired.
Interim Housing – portables were moved from Southwest HS and new portables installed to replace buildings demolished in the footprint of the Performing Arts Center. These will remain until Phase 2 can be funded to build permanent classrooms.
Status –
Stadium repairs complete in 2009 and certified by DSA on 5/29/09.
Performing arts, library and PE facilities complete in December 2010 and

certified by DSA on 4/25/12.

Interim Housing complete in 2009 and closed without certification by DSA on 7/21/11. Planning staff is working with the architect and portable manufacturer to provide the necessary documentation on the Distance Learning Center portable that is now used as a computer lab.